Adapted from one of Le Corbusier's frameworks, the Dom-Ino system, the polikatoikia are Athens' ubiquitous apartment blocks, built from the 1950s to the1980s.
Simple principles for good living
Remarkably, they helped the Greek capital to achieve high levels of social mixing thanks to a few key decisions:
solid overall construction based on concrete pillars rather than load-bearing interior walls,
tiered terraces from the 6 floor up,
spacious common areas encouraging gatherings and encounters between neighbours,
central heating – a revolution at the time.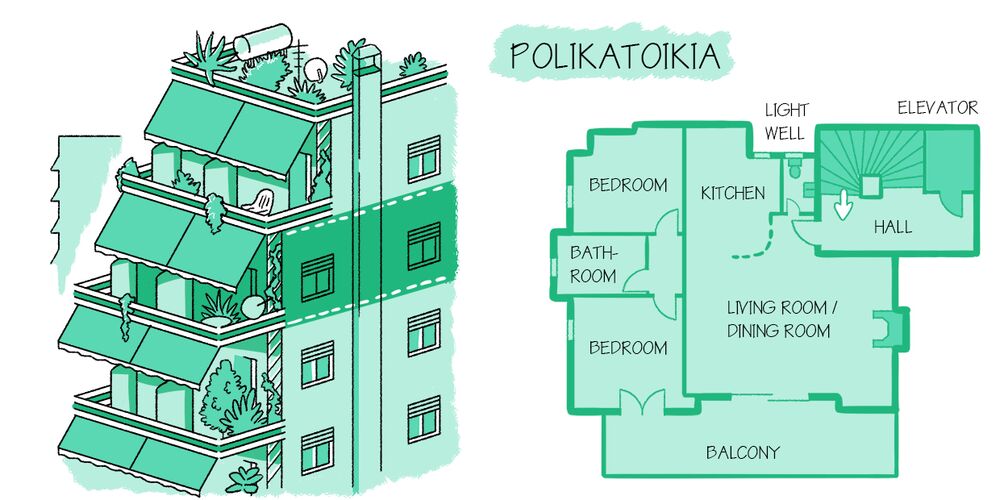 The innovative financial model meant that neither the State nor the developers needed to pay for the new buildings upfront, which helped their popularisation. Indeed, flat owners end up owning the building and the land itself.
Units proved resilient thanks to their generous sizes – 2 bedrooms and above – as well as outdoor space. The integration of cafés and restaurants at ground level helps to fill the streets with a lively atmosphere, well before mixed-used developments became more of a staple of a balanced lifestyle.
Much more on the original article from Bloomberg's CityLab.
Le Corbusier envisioned the Dom-Ino system as a platform, arguing that the world was in need of flexible blueprints to adapt finished houses from, rather than finished houses themselves.
A more extreme version of this philosophy could be the Torre David in Caracas, a 3-000 squatter skyscraper originally meant to be a financial firm headquarters and now turned into a vibrant community.